Pumpkin Masque - 4 oz - Vegan
EW-PM4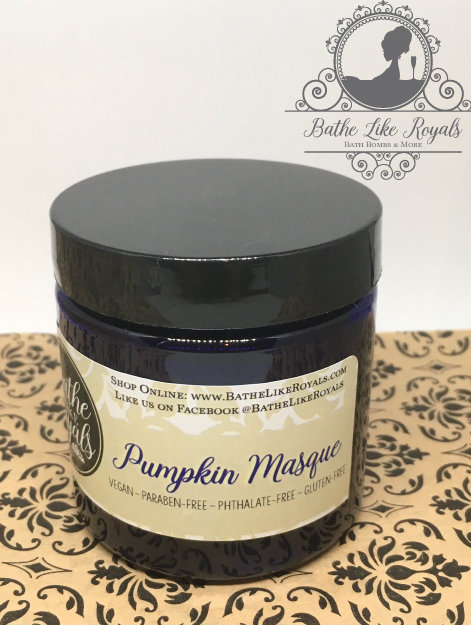 Pumpkin is loaded over a 100 beneficial nutrients and is a helpful super food for the skin. Leaves skin feeling replenished, brightened and softly renewed. Creamy, antioxidant and enzyme-rich
Smells delicious as it brings deep exfoliation and sloughing effects to dry, dull skin suffering from the "winter blues".

It is active, so a patch test is recommended.
Balanced for the skin's pH between 3.5 to 4.2
---
Ingredient Super Stars:
~3%-5% glycolic acid ~pumpkin fruit ~vitamin E & C ~cinnamon, ginger, & nutmeg powder
---
~Vegan ~Paraben-Free ~Phthalate-Free ~ Gluten-Free
---
How To Use:
Apply a thin layer to cleansed skin, avoiding eye area or open wounds. Rinse off after five minutes, or if irritation occurs, rinse immediately. Light tingling will occur. If skin becomes irritated, wash off immediately with warm water and apply vegetable oil to face. Olive or Jojoba Oil work great. Tone, nourish and protect. Always test product on small area before use on entire face. This product can irritate sensitive skin, or skin that has open pores. Only you will know when to wash off the masque, which should happen at the first sign of any irritation. Apply jojoba oil after masqing for a cooling effect.
Pumpkin Fruit Purée, Water, Glycerin, Tetrasodium EDTA, Vitamin E, Sunflower Seed Oil, Phenoxyethanol, Citric Acid, Meadowfoam Seed Oil, Xanthan Gum, Glycolic Acid, Vitamin C, Organic Sugar Cane Extract, Organic Bilberry Fruit Extract, Organic Sugar Maple Extract, Organic Orange Peel Extract, Organic Lemon Peel Extract, Organic Cranberry Fruit Extract, Organic Neem Seed Oil, Organic Rosemary Leaf Extract, Organic Sunflower Seed Oil, Cinnamon Bark Powder, Ginger Root Powder, Allspice Powder, Nutmeg Powder, Organic Alcohol
Estimated Time Before Items Ship:1-3 days