Mystery Box - Something Floral
BLR-FloralBox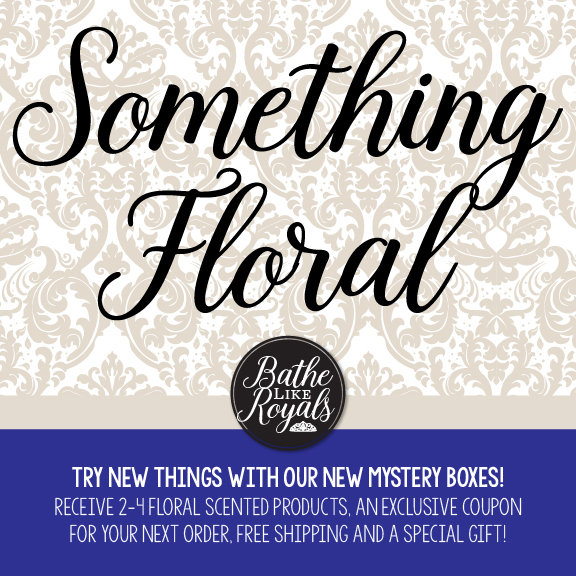 Surprise Me with Something Floral!
Now introducing our new Mystery Boxes. Pick which box you want and you will receive items that go along with that type of box. With free shipping this is a great way to try new things! Love what you got in your box? Order it again using the discount coupon in your box!
---
Sometimes it can be scary to try new things, especially if you cannot see or smell it in person. Well now is the time to get out of your comfort zone! Try something new with our Mystery Boxes. They also make a GREAT gift for holidays, birthdays and more.

Each box will come with 2-4 full sized products that are Floral scented, an exclusive coupon to use on your next purchase and a special gift!
As our products are always coming and going, never worry about getting the exact same products. You can purchase our mystery boxes over and over if you wish to try new things and be surprised when you open the box!
Products that may be in your box include: Soap, Bath Bombs, Shower Steamers, Lotion, Sugar Scrubs, Bath Salts, Soy Candle Products, Lip Balm and more.
---
***IF YOU ARE ALLERGIC TO ANYTHING THAT SOME OF OUR ITEMS CONTAIN, PLEASE MAKE SURE TO INCLUDE A NOTE DURING CHECKOUT! WE WILL DO OUR BEST TO MAKE SURE YOU DO NOT RECEIVE ANYTHING WITH THAT IN IT.***
---
* No returns accepted on Mystery Box orders. You are purchasing this box knowing there is a possibility you could get something you do not like. If this does happen, I would recommend giving it as a gift! Or you can talk to your local affiliate about doing a product swap with them. *
Have any questions? Contact Jacquelyn at owner@bathelikeroyals.com.