Lavender with Activated Charcoal Soap Bar - 5oz - ALL NATURAL & VEGAN - 85% Organic Ingredients
NSW-LAC-S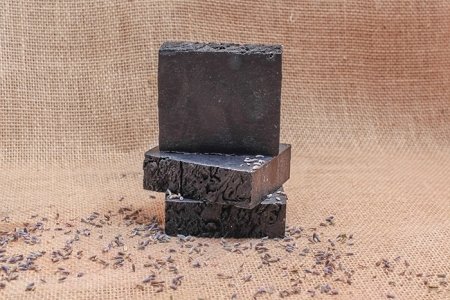 LAVENDER ACTIVATED CHARCOAL SOAP BAR
Loaf Size: 3" x 2.75" x 1" bars weighing roughly 5oz. These soap bars are Slab Style so they have a rough/unsmooth top.
Description: Activated Charcoal is said to draw impurities, dirt and oil from the skin. We put loads of charcoal in this soap for maximum cleansing effectiveness in our 85% Organic Ingredient Soap Base. Made with Lavender Essential Oil for a calming scent and amazing EO benefits.
This soap makes a great face wash!
---
Ingredients:
Organic Palm Oil, Water, Organic Sunflower Oil, Organic Coconut Oil, Sodium Hydroxide, Organic Olive Oil, Activated Charcoal, Lavender Essential Oil.

Estimated Time Before Items Ship:1-2 weeks