Jamaican Me Crazy Soap Bar - 4.8oz
19-0055-000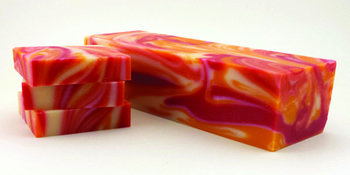 JAMAICAN ME CRAZY COLD PROCESS SOAP BAR
Loaf Size: 3.5" x 2.25" x 1" bars weighing roughly 4.8oz.
Description: Beautiful combination of sweet jasmine florals with our best fragrance. Contains sea salt and ground oatmeal as exfoliants.
---
Ingredients:
Olive Oil, Soybean Oil, Coconut Oil, Corn Oil, Hemp Oil, Organic Shea Butter, Water, Sodium Hydroxide (Lye), Sea Salt, Ground Oatmeal, FD&C and/or Mica Colorant
---
Please note that due to the handmade nature of this soap, color shades and swirl styles may slightly vary. Each loaf and bar is unique!