BLR Specialty Shower Steamer - Seasonal Allergies - Bundle of 2
SS-Seasonal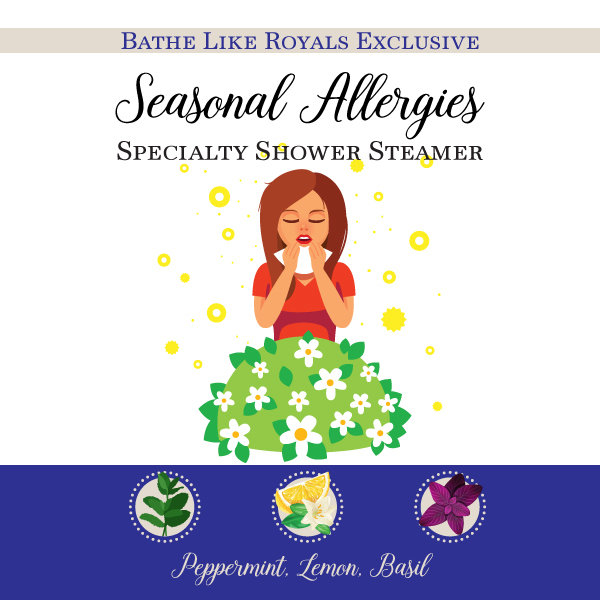 Specialty Shower Steamer - Seasonal Allergies
Our Specialty Steamers now come in sets of 2 smaller steamers! They will be a total weight of 2.5oz combined.
---
Peppermint Essential Oil
We use Peppermint Japanese Essential Oil which has a sharp, penetrating mint scent based on its high menthol content. Peppermint Oil is high in omega-3 fatty acids, Vitamin A, C, minerals, manganese, iron, calcium, magnesium, folate, copper and potassium.
*Caution: The strong aroma and menthol content should be avoided during pregnancy.

---
Lemon Essential Oil
Aromatic Scent: Lemon Essential Oil has a strong citrus scent.
*Cautions: Lemon Essential Oil is non-toxic, but may cause skin irritation in some. Lemon is also photo-toxic and should be avoided prior to exposure to direct sunlight. Avoid during pregnancy.
---
Basil Essential Oil
Aromatic Scent: This variety has a sweet vaguely anise-like, mint, smoky odor.

*Cautions: Ask your doctor before using if you are pregnant.

---
How To Use:
Place the shower steamer in the corner of your shower out of direct way of water, but where water still splashes it. Enjoy your therapeutic shower!
---
INGREDIENTS:
Baking Soda, Citric Acid, Corn Starch, Witch Hazel, Essential Oils
---
Please note: Due to the handmade nature of these shower steamers, appearance may slightly vary. These are made to order so please allow 3-4 weeks before your order ships.

---
Disclaimer: The information provided is general and should not be taken as medical advice.

Estimated Time Before Items Ship:Up to 4 Weeks