BLR Specialty Shower Steamer - Good Nights Sleep - Set of 2
SS-Sleep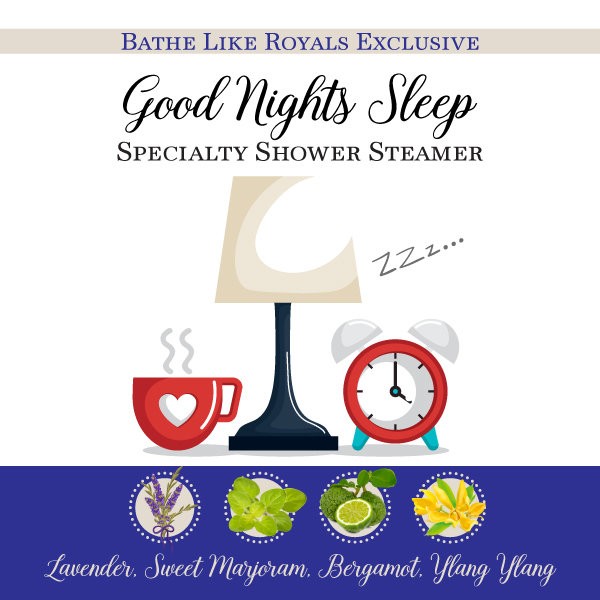 Specialty Shower Steamer - Good Nights Sleep
You will receive a set of 2 speciality shower steamers with a total weight of approx 2.5oz
---
Lavender Essential Oil
Aromatic Scent: Balsamic woody undertone with a floral, herbaceous fresh scent.
*Caution: It should not be used directly in pregnant women or women who are currently breastfeeding.
---
Ylang Ylang Essential Oil
Aromatic Scent: Intensely sweet, soft floral-balsamic, slightly spicy scent. There is a creamy rich top-note.
*Cautions: Ylang-ylang Essential Oil can cause sensitivity on some people and excessive use of it may lead to headaches and nausea.
---
Sweet Marjoram Essential Oil
Aromatic Scent: Warm and spicy aroma, with a hint of nutmeg.
*Cautions: Generally non-toxic, non-irritating and non-sensitizing. Avoid use during pregnancy.
---
Bergamot Essential Oil
Aromatic Scent: Spicy-sweet characteristic scent.
*Cautions: The oil is very potent and not to be used on sensitive skin. Avoid use during pregnancy.
---
How To Use:
Place the shower steamer in the corner of your shower out of direct way of water, but where water still splashes it. Enjoy your therapeutic shower!
---
INGREDIENTS:
Baking Soda, Citric Acid, Corn Starch, Witch Hazel, Essential Oils
---
Please note: Due to the handmade nature of these shower steamers, appearance may slightly vary. These are made to order so please allow 3-4 weeks before your order ships.

---
Disclaimer: The information provided is general and should not be taken as medical advice.

Estimated Time Before Items Ship:Up to 4 Weeks