BLR Specialty Migraine Relief All-Natural Balm - 0.5oz
BLR-MRB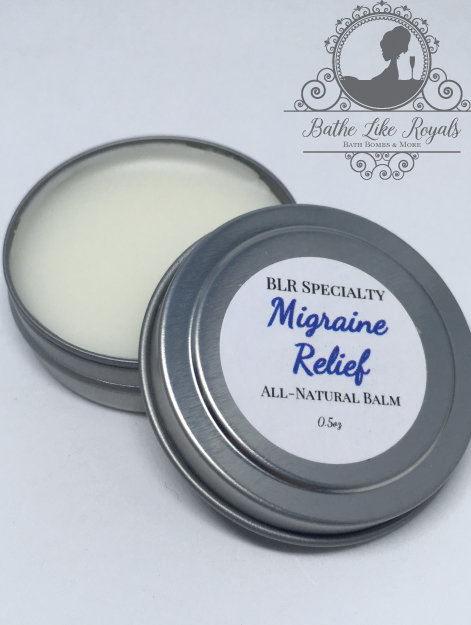 Migraine Relief All-Natural Balm
---
Massage into temples, forehead & back of head every 5-15 minutes at onset of migraine/headache. Then apply as needed. For maximum effect, apply and leave on overnight.
This is a concentrated balm, so a little goes a long way.
Made with 100% therapeutic grade essential oils, beeswax and sweet almond oil. That's it, no additives or unnatural ingredients.
---
Lavender Essential Oil
Aromatic Scent: Balsamic woody undertone with a floral, herbaceous fresh scent.
Benefits: Relieves feelings of restlessness & disturbed sleep, two symptoms of headaches. It also regulates serotonin levels, which helps minimize pain in the nervous system that can lead to migraine attacks. It works as a sedative, antidepressant, anti-anxiety, anxiolytic, anticonvulsant and calming agent.
*Caution: It should not be used directly in pregnant women or women who are currently breastfeeding.
Aromatic Scent: Lemon Essential Oil has a strong citrus scent.
Benefits: It is calming in nature and, therefore, helps in eliminating mental fatigue, exhaustion, dizziness, anxiety, nervousness and nervous tension. It can refresh the mind by creating a positive mindset and removing negative emotions.
*Cautions: Lemon Essential Oil is non-toxic, but may cause skin irritation in some. Lemon is also photo-toxic and should be avoided prior to exposure to direct sunlight. Avoid during pregnancy.
Aromatic Scent: Rosemary Spanish-Standardized Essential Oil has a strong, clear, penetrating, camphoraceous and herbaceous aroma.
Benefits: Used in folk medicine to treat headaches and poor circulation because of its stimulating, anti-inflammatory and analgesic properties. It has a calming effect and improves personal orientation and alertness. It also reduces stress and emotional triggers that can cause headache attacks.
*Cautions: Rosemary Spanish-Standardized Essential Oil is generally non-toxic and non-sensitizing. It is not suitable for people with epilepsy or high blood pressure. Avoid in pregnancy since it is an emmenagogue.
---
INGREDIENTS:
Sweet Almond Oil, Beeswax, Essential Oils
---
Disclaimer: The information provided is general and should not be taken as medical advice.

Estimated Time Before Items Ship:1-3 Business Days