All Natural, Tattoo Replenish Cream - 4oz
BLR-TRC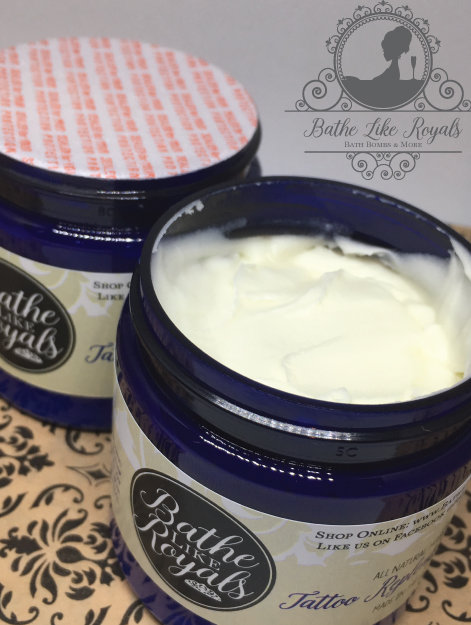 All Natural Tattoo Replenish Cream
---
Moisturize and restore your tattoos with this amazing Tattoo Cream! Give your tattoos, new and old, all the nutrients they need to stay looking and feeling amazing. This cream is an all natural alternative to items you find in stores. Made with amazing ingredients that work amazingly on tattooed skin. A little goes a long way with this cream so even if you have tattoos all over, this 4oz jar will last.
---
Why Essential Oils?
As the oils soak into the tattoo, they will settle within the colors and make them look much deeper and more vibrant. Many people have had success making their 10 year old tattoos look like they did the day they were made after applying essential oils to their ink.
Whilst the oils will help to improve the condition of your skin (and therefore tattoo) over the course of several weeks of continuous application, the way that the oils react with the colors of the ink will help to ensure that you see a noticeable improvement in the vibrancy of your tattoos almost immediately.
---
Essential Oils Used:
Lavender - 100% Pure Therapeutic Grade Essential Oil
Lavender is used in this cream for its antiseptic and healing properties. It also relieves pain, helps with blood circulation, and is generally soothing overall.
Frankincense - 100% Pure Therapeutic Grade Essential Oil
Frankincense is used in this cream because it helps wounds heal faster and protects them from infection (remember, a new tattoo is an open wound while it is healing).
Tea Tree - 100% Pure Therapeutic Grade Essential Oil
Tea Tree is used in this cream for its antibacterial properties, cicatrizant property (speeds healing), antimicrobial properties and antiseptic properties.
Lemon - 100% Pure Therapeutic Grade Essential Oil
Lemon is used in this cream because it helps to disinfect and sanitize new tattoos, helping to keep the area clean from harmful germs and bacteria that can cause nasty infections.
---
Base Butter & Oils Used:

Organic Coconut Oil
The capric, caprylic and lauric fatty acids within coconut act as a natural disinfectant, protecting your tattoo from microbial infections. Proteins in coconut oil assist in rejuvenating the skin after the trauma of tattooing. The proteins repair damaged cells at a normal, healthy rate throughout the healing process. Coconut Oil is the fat extracted from the flesh of coconuts. The medium chain fatty acids found in it retain your skin's moisture, meaning you new tattoo won't dry out.
Sweet Almond Oil
It helps to combat dryness and re-hydrate/soothe your skin. This is especially useful during the healing phase of your new tattoo, and also for older tattoos if you generally suffer from very dry and/or sensitive skin. It is studied as being rich in monounsaturated oleic acid, linoleic acid, and saturated fatty acid.
Ultra Refined Shea Butter
Refined Shea Butter is good source of Vitamins A, E and F. Vitamins A and E help maintain the skin and keep it clear and healthy. Vitamin F acts as a skin protector and also it rejuvenates the skin. It soothes rough, dry or chapped skin. Shea Butter can easily penetrate the skin allowing the skin to breathe and without clogging pores. Shea Butter also contains a high level of cinnamic acid which is a natural sunscreen. So, it provides some degree of protection from the sun.
Kokum Butter
Kokum butter is more emollient than most butters, possesses natural healing properties, has a uniform triglyceride composition and promotes regeneration of skin. It also softens the skin and restores skin flexibility, is non-pore clogging, helps regenerates skin cells & reduces degeneration of skin cells, and helps prevents drying of the skin.
Hemp Seed Oil
Hemp Seed Oil is naturally emollient, moisturizing, protective and soothing on tattooed skin. It promotes rapid cell recovery and is the perfect natural healing aid. Most of the health benefits of hemp seed oil come from its excellent ratio of omega 6 to omega 3 which is very close to what the body requires for optimal health.
Golden Jojoba Oil
Jojoba oil acts as a moisturizer and is chemically similar to sebum, a product of the human body. Because of this, a tattoo treated with jojoba oil has access to air but maintains moisture needed to heal. Clinical tests show jojoba oil has antibacterial and antimicrobial properties, which help keep infection out of a healing tattoo.
Apricot Kernel Oil
Rich in essential fatty acids like oleic and linoleic acid, apricot kernel oil is high in vitamin A. Since it easily penetrates the skin, it is good oil for prematurely aged, dry or irritated skin.
---
INGREDIENTS:

Kokum Butter, Ultra Refined Shea Butter, Organic Coconut Oil, Sweet Almond Oil, Hemp Seed Oil, Golden Jojoba Oil, Apricot Kernel Oil, Tea Tree Essential Oil, Lemon Essential Oil, Lavender Essential Oil, Frankincense Essential Oil
Estimated Time Before Items Ship:1-3 Business Days