All Natural, Homemade Eczema Lotion - 2oz
EczLotion2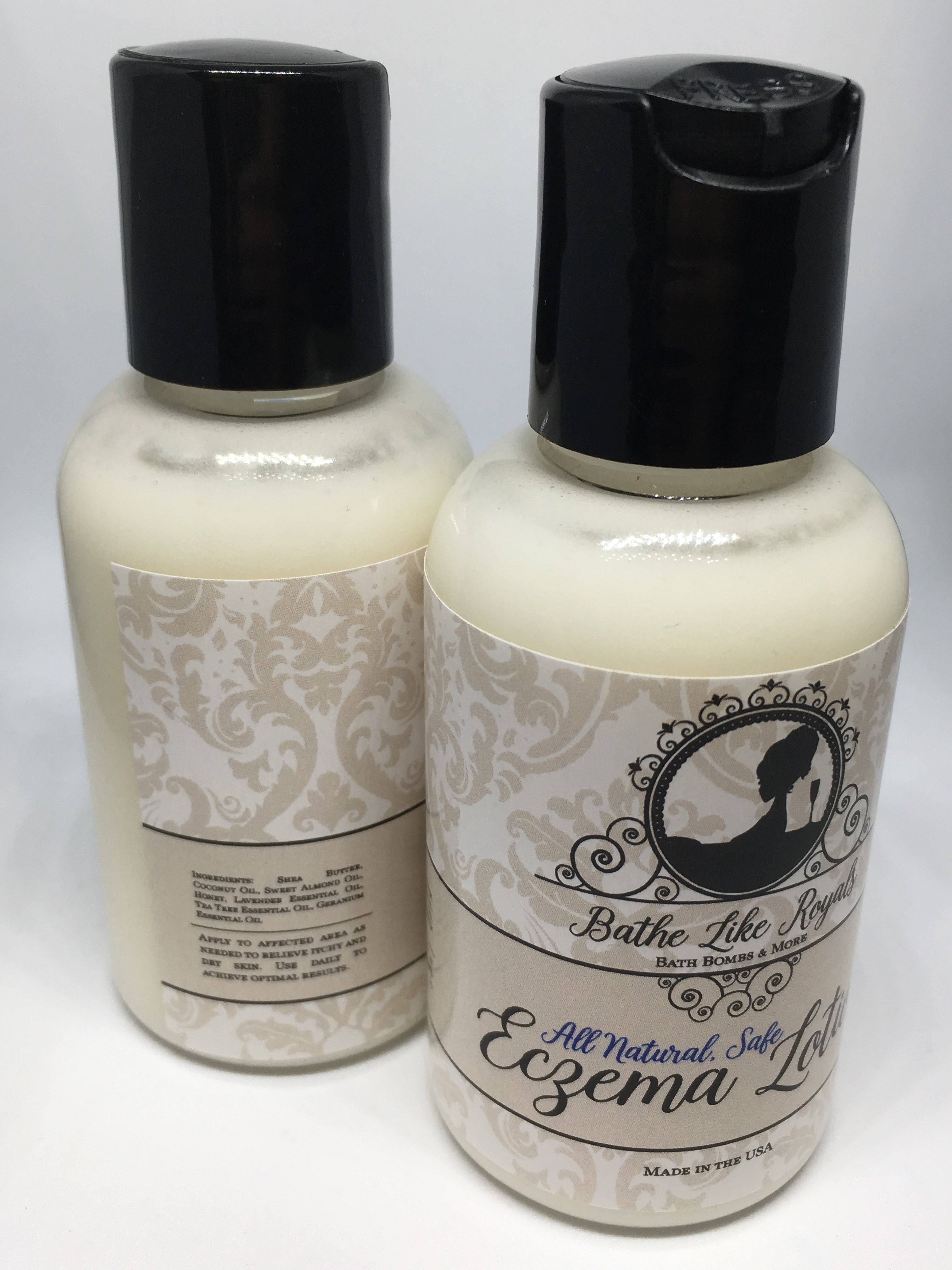 All Natural Eczema Lotion
---
What is Eczema? It's a medical condition in which patches of skin become rough and inflamed, with blisters that cause itching and bleeding, sometimes resulting from a reaction to irritation (eczematous dermatitis) but more typically having no obvious external cause.
---
Essential Oils Used:

Lavender - 100% Pure Therapeutic Grade Essential Oil
Lavender is used in this lotion for its antiseptic and healing properties. It helps heal the red, dry skin associated with eczema.
Geranium - 100% Pure Therapeutic Grade Essential Oil
Geranium is used in this lotion for its healing properties. It helps to speed up the healing process of cuts/wounds which may occur with dry skin conditions. It also helps in fading the look of scars and other spots on the skin quickly. Because geranium oil has powerful cicatrisant properties, it increases blood circulation right below the surface of the skin.
Tea Tree - 100% Pure Therapeutic Grade Essential Oil
Tea Tree is used in this lotion for its anti-fungal and antiseptic properties. It helps relieve any type of skin inflammation which is great for eczema treatment and reducing psoriasis.
---
Base Butter & Oils Used:

Coconut Oil
Because of its anti-inflammatory properties, coconut oil is on a rise in popularity for treating skin conditions like eczema, psoriasis and other skin conditions. Its natural antioxidant properties make it great for stopping wrinkles and skin irritation.
Sweet Almond Oil
Sweet Almond Oil is thought to be one of the best oils that can be used safely on eczema ridden skin. It helps nourish dry skin and relieves itching and redness caused by eczema. It is studied as being rich in monounsaturated oleic acid, linoleic acid, and saturated fatty acid.

Naturally Refined Shea Butter
Refined Shea Butter is good source of Vitamins A, E and F. Vitamins A and E help maintain the skin and keep it clear and healthy. Vitamin F acts as a skin protector and also it rejuvenates the skin. It soothes rough, dry or chapped skin. Shea Butter can easily penetrate the skin allowing the skin to breathe and without clogging pores. Shea Butter also contains a high level of cinnamic acid which is a natural sunscreen. So, it provides some degree of protection from the sun.
---
INGREDIENTS:

Cocos Nucifera (Coconut Oil), Naturally Refined Shea Butter, Sweet Almond Oil, Pelargonium Graveolens (Geranium) Essential Oil, Melaleuca Alternifolia (Tea Tree) Essential Oil, Lavandula Angustifolia (Lavender) Essential Oil
---
Please note: The statements made regarding these products have not been evaluated by the Food and Drug Administration. The efficiency of these products has not been confirmed by FDA-approved research. These products are not intended to diagnose, treat, cure or prevent any disease. All information presented here is not meant as a substitute for or alternative to information from health care practitioners. If you are taking any medications or are under treatment for any disease, please consult with your health care professional about potential interactions or other possible complications before using these products. The Federal Food, Drug and Cosmetic Act requires this notice.

Estimated Time Before Items Ship:1-3 Business Days